The scope of resilience idea on Iranian social work website
Particular note by one of the activists of Iranian social workers Media about the resilience club book; the new book of ISWM
Despite the beginning of the 21st century, there is an increasing process of social conflicts, pandemic diseases, financial crises, immigration, war and homelessness, environmental problems and social harms which are the challenges test the nature of the contemporary man experimentally, and measure their mental endurance. Imagine the crisis is like a deep hole someone falls into, but someone else learns how to pass and not to be trapped ; this is a kind of conflict solution skill.
resilience on Iranian social work website
Resilience in current crises and solving problems needs timely management which it is a difficult intervention. The nature and the form of crises have outstanding differences and usually challenge our abilities for overcoming the problems. The more resilient people are, the easier with less costs it is to overcome and pass the crises.
Resilience needs a deep level of adaptation; it means when something happens which completely affects and overwhelms our lives, we should not imagine that we're done. As our bodies tolerate diseases effects, the mind and its outputs should have resilience in the face of the current crisis. So we can also bear psycho-social and emotional problems when we are able to tolerate diseases.
It should be mentioned that the resilience does not mean infallibility, but as a self commitment and increase of healing capacity and continuous recovery. We all know our country, Iran faces a lot of natural and man-made crises. In this situation, while the vulnerability of people is increasing, it is required to have strategies and plans in order to reduce the effects of crises.
In this regard resilience is one of the most important plans helps us to achieve goals. Iranian social workers Media contains 3 subsets called as ISW announcements, ISW Virtual Magazine and ISW English website.
During 5 years of activity, four books entitled "the book of year" were compiled and published ; the content of two was based on media campaigns.
ISW website is the only one around the world whose specific content is annually published as a book. The significant point is the independence of this Media from the governmental and non-governmental organizations.
It is note worthy that ISW Media has a friendly relationship with the most professional associations in the field of sciences helping people. Fortunately, it neither is nor will be influenced by any association.
At the present time, ISWM is going to compile and publish other books and next step is publication of specific articles about SW researches. Other steps will be compilation of a series of social analyses conducted in recent years. Four volumes have been registered in National Library of Iran.
Creating Resilience Club and Home of Resilience as an ideas of ISWM with the aim of scientific – practical researches on various fields of resilience will be difficult and erosive, because we intend to teach it not based on current standards but on effectiveness and efficiency following the institutionalization of resilience especially for vulnerable groups and those who work in different professions.
A brief description about the biography of Dr. Javad Teleschi Yekta, the manager and the founder of Iranian home of resilience
Javad Teleschi Yekta; the manager and the founder of Home of Resilience
He was born on October 20th1978, and now he resides in Anzali port. As soon as graduating from the university in social work in 2002, he went to the military service and he has been working for 2 years as a social worker in juvenile detention center in Anzali prison and gained a lot of important experiences.
By ending the military service, he academically studied on classical music and psychology in Armenia.
Establishment of a social work clinic
After returning, he has established a social work clinic by the Welfare Organization license which directly and practically addressed the professional activities in women empowerment who are the family head, those who have poor guardians, and the orphans as well as conducting the different plans to prevent and confront the social harms.
Activation of comprehensive website of social work
Along with the practical activities in social work since 2011 and due to the 6 months assessment of cyberspace and social networks, he built the required infrastructures to activate and set up the comprehensive website of social work with the cooperation of some colleagues; ultimately the social work Media officially begun to work with the national and international coverage.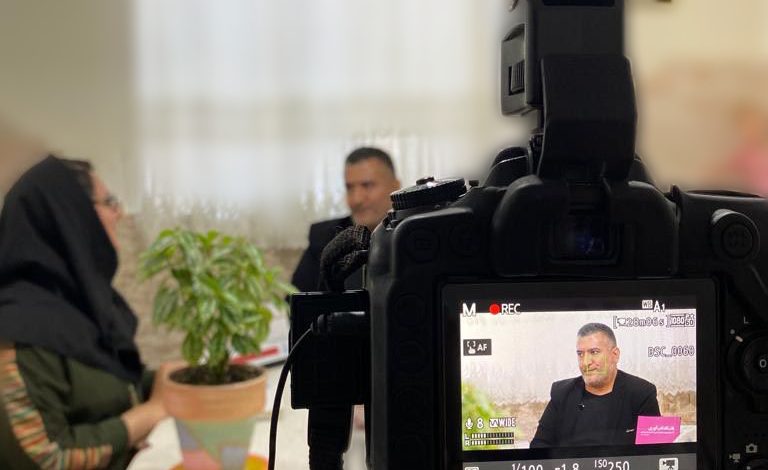 Media campaigns, English website
After a while the social work Media was thoroughly well-known and became famous by running some media campaigns on different social issues across the country as hundreds of IP addresses (users) were daily observing this website. Because of the lack of the international relationships, the contexts were prepared to activate the English website which had begun to work with different pages on social networks since 2015.
Based on the decisions made by the professional team, the contents should be annually published as a book titled "book of year" , so five books have been published during 11 years of activity which all of them have been registered in the National Library of Iran.
Setting up the club and the Iranian home of resilience
Due to the importance of resilience subject , the social work website addresses the specific issues in various fields and simultaneously studies and researches on new important topics like resilience in different arenas such as women, children , adolescents, schools and patients suffering from rare diseases.
By writing the professional contents about resilience, Iranian social work Media decided to plan for independent pages focused on the resilience; therefore, Iranian Home of Resilience has officially begun to work since 2014 as a subset of Iranian social work Media, and Mr. Javad Teleschi Yekta was known as the manager and the founder of Iranian Home of Resilience among the governmental and non governmental entities working on social and psychological areas since then.
After a short time due to the development of the specialized activities based on the resilience, Mr.Teleschi offered that the Iranian resilience club to be established as a branch of the Iranian online social work journal. Outstanding actions have been taken in the field of training at different levels all over the country.
Records of training in resilience workshops
There were some workshops held by Dr. Teleschi on resilience training for students and those who were graduated from the universities such as Shahid Beheshti, Kharazmi, Allameh Tabataba'i and Guilan. It should be mentioned that the workshops were held by the management and cooperation of the Iranian Resilience Club.
Higher education
After education in social work and then clinical psychology, he was interested in Coaching; therefore, he has had strategic studies on the issue since 2018 and received his PhD in the strategic and organizational management of coaching in 2020.
Value-creating manager
In the first National Award Festival titled "Arman-e-Bartar" held in Shahid Azodi conference hall in Payame Noor University dated September 14th 2018, he as the manager and founder of Iranian Resilience Home was elected and appreciated for his several years of service, efforts and specific actions on social work and resilience.
The published books
Eight books have been published by the cooperation of Mr. Teleschi so far. Among them five books have been compiled and prepared from the contents of Iranian social work Media; One book has been written titled "social work in practice" and the two other books have been translated under title of "The global resilience project " and "A manual for designing the programs that build resilience" which he has collaborated as one of the two translators.
Cooperation with other Media
During recent years the manager and the founder of Iranian Home of resilience has cooperated with various websites and News Agencies. Mr. Teleschi has a lot of interviews and prominent activities to produce contents in social, psychological and resilience fields, so that over 100 essays and notes of him have been released on News Agencies like Mehr, isna, irna, moroor, salamatnews and etc. Dr. Teleschi is also an official reporter for salamatnews Agency.